After completing a Bachelor of Medicine and Bachelor of Surgery (MBChB) in 1985, I worked in obstetrics, paediatrics, internal medicine and general surgery service in two missionary general hospitals in Kampala. During that time I felt very inadequate each time I had to assess an eye patient.
As a result, I decided to embark on a career in ophthalmology, knowing that there were only six ophthalmologists in Uganda at the time. I applied for residency in the ophthalmology department at Makerere Medical School and was granted a position in 1987. Being a trainee at the department was a challenge because the faculty members were overstretched with clinical work leaving very little time for teaching. Thankfully there was an ongoing programme of support for ophthalmology teams to conduct surgical camps in Uganda under the auspices of Sight Savers, then called the Royal Commonwealth Society for the Blind (RCSB).
I completed my residency program and graduated with a Master of Medicine degree in 1990. The following year RCSB granted me a scholarship to attend the diploma course in community eye health in London. They supported me for an extra month to have a rotation at the Royal Berkshire Hospital in Reading UK in order to get acquainted with how eye care is delivered in a developed country.
Prior to returning to my country, I was able to visit Norway and share what I had planned for my home country with some officials of Norad and Lions Club. My plans included a proposal for eye care development in a provincial hospital. They embraced the concept and developed it further which ultimately earned us a grant of 4.2 million dollars for the Uganda project. Using this grant, two eye departments were built in two separate places in Uganda one of which was to be my work station for seventeen years.
The initial five years were characterized by training of about 300 mid-level eye care workers. In 1998 under the same project I was sponsored to undergo a conversion course from intracapsular cataract extraction to extra capsular cataract extraction with intra ocular lens implantation at Aravind Eye Hospital Madurai India.
I had opportunity to attend the launch of the Vision 2020 strategy in Beijing in 1999 and from 2001 to 2004 I took time off from the public service for a contract with CBM East Africa Regional office but was based at Benedictine Eye Hospital in Uganda.
At the end of 2004 and for the next five years, my time was split between Benedictine Eye Hospital and the government hospital which was forty kilometres away. At Benedictine, we hosted trainees in the Residency Programme to teach them hands on surgical procedures.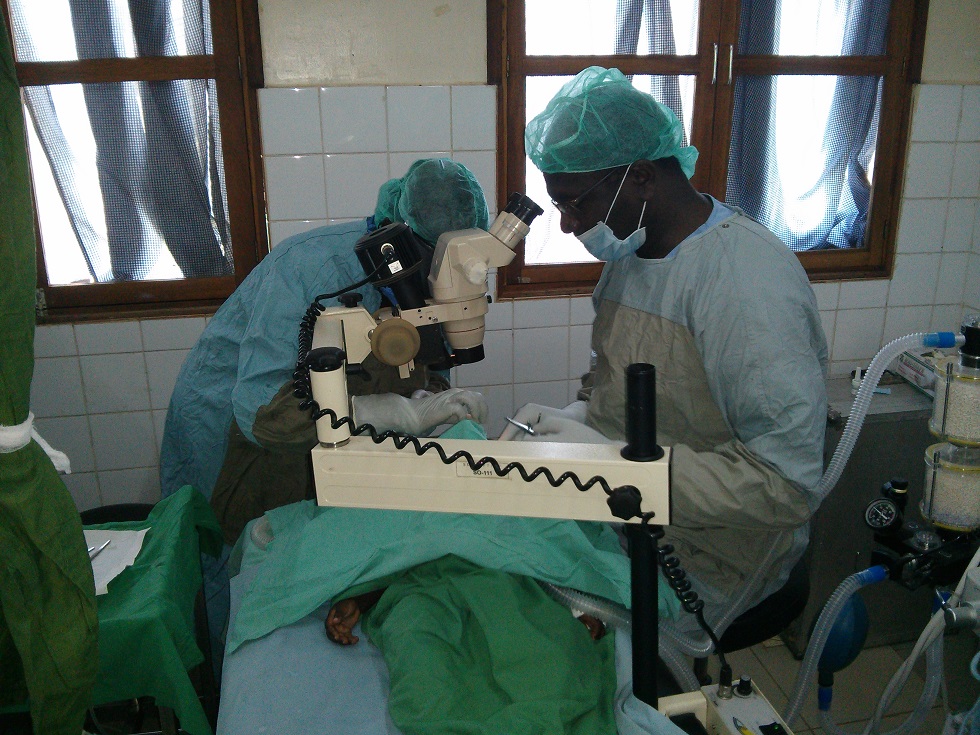 In 2006, CBM sponsored me to attend a six month paediatric ophthalmology fellowship at CCBRT in Tanzania. After the training we developed paediatric ophthalmology services at Benedictine to cater for the surrounding district with a total population of about 5 million.
To advance the paediatric service in the country I was awarded a scholarship by Light for the World to attend a paediatric ophthalmology course at the University of California in Los Angeles from 2010 to 2011. While on that course I was appointed chief ophthalmologist back home in Uganda. In 2012, I was awarded a scholarship by the college of ophthalmologists, East Central and Southern Africa (COECSA) to attend a phacoemulsification training at Aravind Eye Hospital.
In the last 5 years prior to coming to Papua New Guinea, I have been involved in clinical work, research, teaching and advisory activities at Makerere/Mulago Teaching Hospital and with the Ministry of Health. My final designations before leaving Uganda were Senior Consultant Ophthalmologist at Mulago Hospital and Honorary Professor of Ophthalmology at Makerere College of Medicine and Health Sciences.
Throughout my career, it has been exciting to see the advancements in quality of care, having started as an ICCE surgeon to see that now there is universal intraocular lens implantation for patients in the developing countries.
I have also seen growing coalitions in the effort to promote eye health both at a national level and globally. I have also seen more linkages between government and non-governmental efforts in the delivery of not only eye health, but health in general.
Going forward and in my current role as a full time lecturer in Ophthalmology in Papua New Guinea, I'd like to achieve a number of things:
To establish a structured training program for ophthalmologists
Mobilize resources for improving the quality of the training
To increase enrolment in the training program and develop national programs to continue to grow training opportunities
To stimulate the development of subspecialties
Ultimately encourage the University to budget for at least three faculty members minimum
To have ongoing regular CPDs for the ophthalmologists in the field
I would like to mentor at least one national in paediatric ophthalmology
In my opinion, there are a number of ways ophthalmology training in PNG could be improved:
Inexpensive review of the curriculum with the view of increased interaction of the trainees with the faculty
Ensuring that the progressive assessment bench marks are adhered to
To have a core fulltime team for the training program
Collaborating with a university in one of the developed countries to help with training and research
More involvement of experienced agencies like RANZCO to avail technical and professional support