The central role of cultural safety
The Close the Gap for Vision by 2020 National Conference 2019 welcomed more than 200 delegates from all over Australia to the traditional lands of the Arrernte people to Mparntwe (Alice Springs).
The event was co-hosted by Indigenous Eye Health at the University of Melbourne and the Aboriginal Medical Services Alliance Northern Territory (AMSANT), and it was fantastic to see representatives from many Vision 2020 Australia member organisations in attendance.
Over the two days, speakers shared their expertise on a breadth of topics drawn together around the conference themes of strengthen and sustain. In depth solutions were explored by speakers who acknowledged the inextricable link between culture and their work in the eye health and vision care sector.
Personal journeys, shared by Shaun Tatipata , Anne-Marie Banfield and Dr Kris Rallah-Baker emphasised the professional balance experienced by Aboriginal and Torres Strait Islander eye health professionals traversing traditional and mainstream culture.
The critical role that Aboriginal Community Controlled Health Organisations can play – not just in providing health care, but in providing career opportunities and pathways – was highlighted by Shaun Tatipata in a moving and inspiring "FRED Talk: Beyond 2000…&20"
The incredible richness and insights that Aboriginal and Torres Strait Islander practitioners can bring to all our work was highlighted Anne-Marie Banfield in her presentation "Clearer Futures" along with additional insights into the critical role ACCHOs can play in supporting local people to develop their workforce roles and interests.
Dr Kris Rallah-Baker delivering a polished and insightful presentation, "Sustainable Change and Self Determination", sharing experiences and insights from his own life, including his journey to become Australia's first Aboriginal and Torres Strait Islander ophthalmologist.
Conference delegates heard about the importance of cultural safety not just for Aboriginal and Torres Strait Islander people accessing treatment through mainstream services but also for Aboriginal and Torres Strait Islander health professionals during their training.
A panel discussion around workforce issues challenged conference delegates to think about culture as an enabler for growing the Aboriginal and Torres Strait Islander workforce, and how individuals and communities, can grow and be empowered by Aboriginal community control.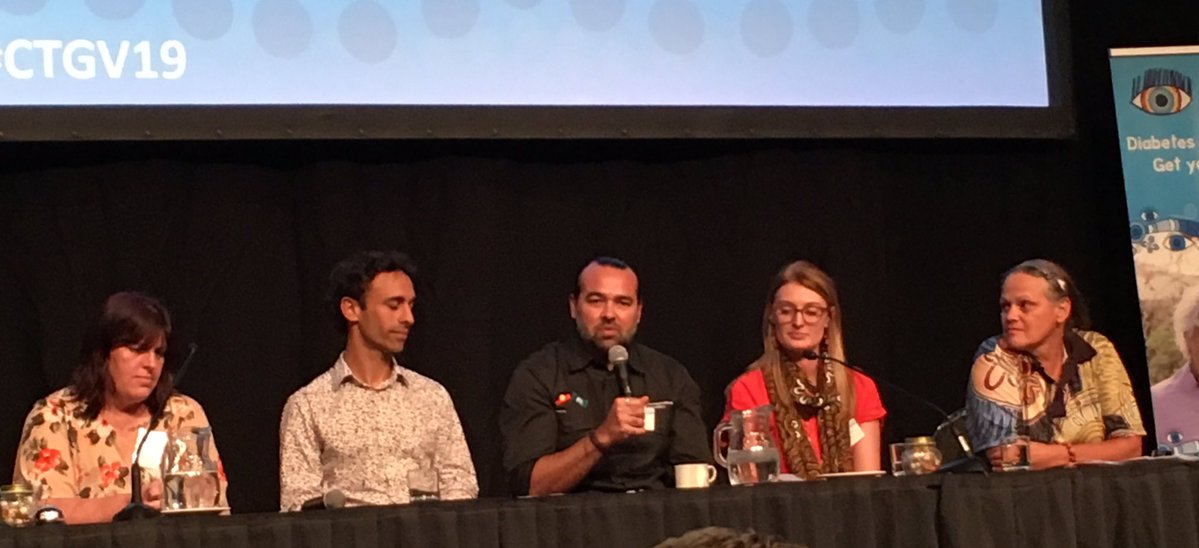 Image: Panel discussion at Close the Gap conference with Anne-Marie Banfield from Winda-Mara Aboriginal Coorporation , Dr Kris Rallah-Baker, Shaun Tatipata from The Fred Hollows Foundation, Lauren Hutchinson from Eyewear Specs and Kerry Woods from Lions Eye Institute.
[1] Shaun Tatipata, Manager, Indigenous Australia Program, The Fred Hollows Foundation
[2] Anne-Marie Banfield, Regional EYE and EAR Coordinator, Winda-Mara Aboriginal Corporation
[3] Dr Kris Rallah-Baker, Ophthalmologist and President of the Australian Indigenous Doctors Association
[4] The full title of Anne-Marie Banfield's presentation is "Clearer Futures: Highlighting the Strategies and Skills Aboriginal Health Workers have and are Developing to Ensure Better Eye care Outcomes"
How we can better understand holistic approaches to close the gap for vision – using the example of trachoma eradication
The concept of holism and holistic approaches are used in many contexts, and can mean different things, depending on the viewpoint of the speaker and the audience.
The Close the Gap for Vision by 2020 2019 national conference was no different – with speakers offering a range of perspectives on holistic approaches in health care.
For example, Pantjiti Unkari Mckenzie, a practicing Ngangkari, talked about the role of traditional healers in providing holistic healing services to the community; and Celia McCarthy presented on the work of the Institute for Urban Indigenous Health providing holistic services through shared medical records and personalised referral across disciplines and within a network of ACCHOs in south east Queensland.
In relation to eye health and vision care, and, in particular, the eradication of trachoma, delegates heard that approaches to trachoma must be holistic, coupled with an understanding of the social determinants of health.
In opening, co-hosts Professor Hugh Taylor and John Paterson discussed this: Professor Taylor reminded delegates how far we've come, noting in decades past, some visiting medical professionals didn't fully understand the link between trachoma and poor housing. In a similar vein, Mr Paterson encouraged delegates to think holistically about the social determinants of health and factors contribute to ill-health, for example, inadequate housing.
Mr Paterson noted closing the gap targets are not being met. He argued mortality rates have stalled because of a failure to address the social determinants of health: that closing the gap targets won't be met in the absence of adequate housing for Aboriginal and Torres Strait Islander people.
In her opening address on day two, Donna Ah Chee asked delegates to lift their gaze upstream to the key determinants of trachoma: overcrowding and poor housing maintenance. She emphasised the need to deal with inadequate housing to address the social problems that, in turn, cause illness in remote Aboriginal communities.
While individual speakers presented on programs to close the gap for vision, the example of the work of the teams dealing with remote Aboriginal housing told delegates the bigger story of the importance of holistic approaches.
Good housing and maintenance were viewed by the Hon Warren Snowden in his address, and by Matthew Lester and William Clements in their presentation, as mechanisms to halt the spread of infections causing trachoma, scabies, otitis media and rheumatic fever.
William Tilmouth said we need to embrace the environmental health concerns of Aboriginal people to "see through the mist" and understand that problems relating to housing are related to law and justice, and to government red tape, and these are all sources of health problems.
Sue Beynon demonstrated how working in partnership with government can be effective. She presented on the mechanisms used to provide trachoma education is taught in schools emphasising that health care in Aboriginal communities requires a holistic approach, not confined to the health centre.
The conference provided an opportunity to get a depth of understanding of holistic health care, using the eradication of trachoma as an exemplar of how holistic approaches can make a difference in communities.
The conference concluded with the adoption of the
Alice Springs Declaration
, a request supported by all delegates to government to ensure that Aboriginal housing investment is used to address critical housing needs in the Northern Territory.
Image: Group photo of all delegates at Close the Gap for Vision by 2020 National Conference
[5] Pantjiti Unkari Mckenzie, Ngangkari, NPY Women's Council
[6] Celia McCarthy, Institute for Urban Indigenous Health
[7] Professor Hugh Taylor, Immediate Past President, The International Council of Ophthalmology, Melbourne Laureate Professor and Harold Mitchell Chair of Indigenous Eye Health, Melbourne School of Population and Global Health, University of Melbourne.
[8] John Paterson, CEO, Aboriginal Medical Services Alliance Northern Territory
[9] Donna Ah Chee, CEO, Central Australian Aboriginal Congress
[10] Hon Warren Snowden MP, Federal Labor Member for Lingiari
[11] Matthew Lester, Health Department of WA
[12] William Clements, Nirrumbuk Aboriginal Corporation
[13 ]William Tilmouth, Senior Aboriginal Community Member
[14] Sue Beynon, NT Department of Education