Anthony Bennett Hall has worked in Zimbabwe, Lesotho, Tanzania, UK and Australia. He has been involved in eye work for over 30 years and been a consultant ophthalmologist for 20. Anthony joined the Vision 2020 Australia Board in December last year. In this blog, Anthony reflects on his career in ophthalmology, time in Tanzania and predicts what 2017 will bring for ophthalmology.
What attracted you towards a career path in ophthalmology? How long have you been an ophthalmologist?
I graduated from the University of Zimbabwe and started a Masters in General Medicine, a degree designed to prepare doctors for a rural practice caring for patients with a range of problems. This included looking after patients with tuberculosis and malaria to doing caesarean sections and dealing with ruptured uteruses.
During my time as a provincial medical officer I realised that there were a lot of eye problems to be dealt with and that medical school does not equip you to do that. Part of the degree allowed for a month's attachment with a specialty that you were unfamiliar with and I went to the eye unit and learned about basic eye diseases and was taught how to do intracapsular cataract extractions.
Regular visits from the eye unit to see patients at the provincial hospital and operate meant I carried on learning. A friend heard I had 'done eyes' and asked me to come and run the small eye clinic he had set up in a mission hospital in Lesotho.
As further preparation I went to a Christian Blind Mission (CBM) run eye hospital in Malawi–Nkhoma where I was taught how to do trabeculectomies, use an indirect ophthalmoscope and to refract, and how to organise mobile outreach clinics.
After running the eye clinic in Lesotho for two years, I realised that ophthalmology was what I wanted to do and that I should have further training. I went to the UK (I had to do the Professional and Linguistics Assessments Board test) and started training in 1989.
Finally in 1996 I completed Higher Surgical Training and then started a year's fellowship in Vitreo Retinal (VR) surgery in Newcastle upon Tyne, before starting work as a consultant in Peterborough where I set up a VR service. I am currently a Vitreo-Retinal Surgeon in Newcastle, NSW and a Conjoint Senior Lecturer in Ophthalmology at the University of Newcastle.
You specialise in retinal surgery, can you tell us why you were attracted to this particular area?
I knew that I would be going to Africa to work and teach. My UK training had prepared me for most things but the one area that I thought I needed further training in was retinal surgery. At that time there was a growing realisation that retinal diseases were a significant proportion of eye disease in Africa. If I was going to provide a service and teach people in Africa how to do retinal surgery, I needed better preparation.
What are the biggest differences between practising in Australia and practising in Tanzania?
In Tanzania, patients often presented with their eye diseases in an advanced state, already blind from their cataracts or with long standing retinal detachments. The one surprising similarity in this regard is how often Australian people with diabetes present with advanced diabetic retinopathy.
Our ecological footprint in Tanzania was much smaller; we had to manage with far fewer resources so everything was reusable. One Australian cataract surgery produces as much waste as a day of operating in Tanzania. We need to explore ways in which practices in Australia could be less wasteful.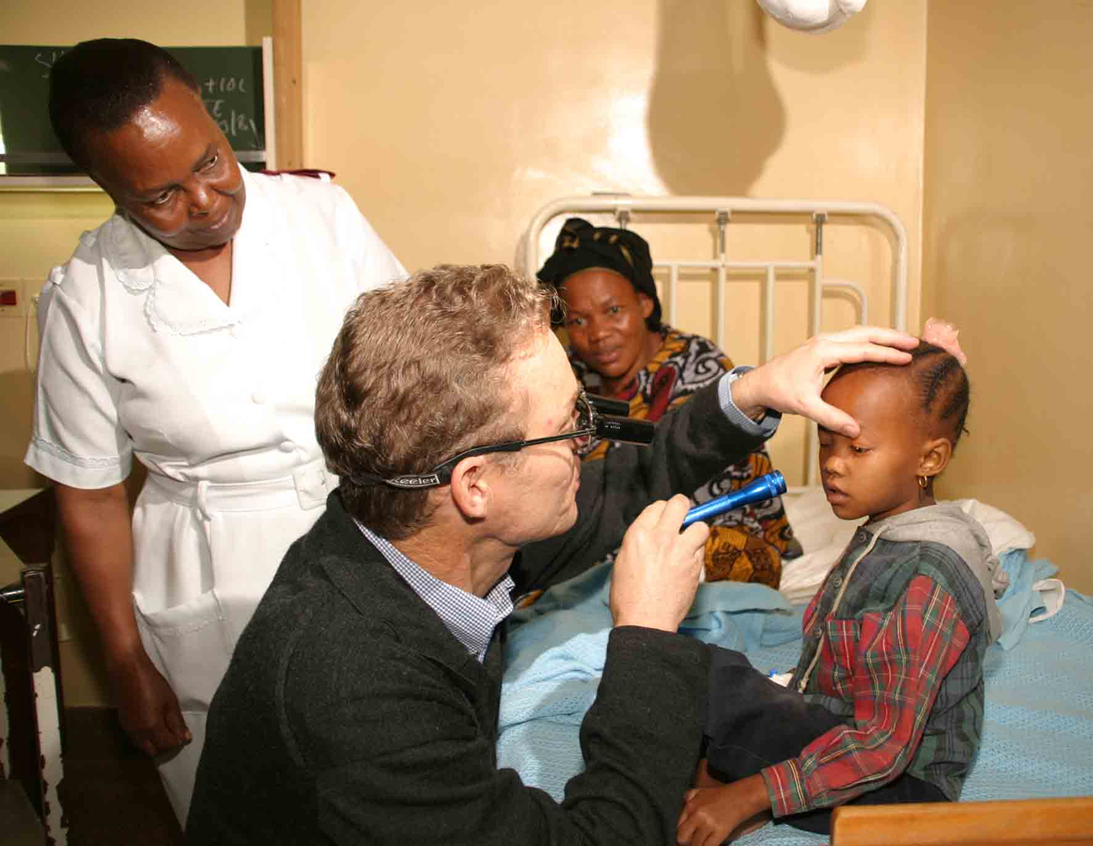 Photo caption: Dr Anthony Bennett Hall examining a child after cataract surgery
What new technology or treatments should ophthalmologists look out for in 2017?
My personal view is that we are perhaps a bit too quick to try and embrace what often seems to be industry driven new technologies before they have been subject to appropriate trials and peer review. If anything new comes along let's make certain that it has been properly assessed.
What do you think will be the biggest changes in ophthalmology over the next few years?
I believe the biggest challenge in Australia will be our ageing population. We will have to provide care to many more people with age-related eye problems. Globally, the population is ageing but the number of people living with diabetes is increasing even more. Sight threatening diabetic retinopathy is going to provide the greatest challenge.
Have you noticed any changes in the types of conditions patients are presenting with since you first started practising as an ophthalmologist?
There are many more people living with diabetes and presenting with sight threatening diabetic retinopathy. I no longer see eyes blinded by measles and Vitamin A deficiency which is a great victory for prevention of blindness through vaccination and Vitamin A distribution.
In Australia, has the relationship between optometrists and ophthalmologists changed? Are they working more closely together?
In our area we have been blessed by good relationships with optometrists. It is an essential part of managing patients from rural areas where the care of quite complex patients is often shared and ongoing advice and support are provided. The recent collaboration with Specsavers and the development of referral guidelines which along with training are available to all optometrists will, I hope, further strengthen the relationship to the benefit of patients.
What inspired you to join the Vision 2020 Australia Board?
Vision 2020 Australia is the peak body representing all the blindness prevention key players in Australia and our region. It plays a vital role in providing advocacy for blindness prevention. I have witnessed the Vision 2020 movement make a huge difference in eye care in Africa and am excited to be part of that in this region.
What are you most looking forward to in your new role?
Learning from other people. I am looking forward to working alongside eye care professionals from different organisations who all have a passion for preventing blindness. There is so much we can learn from one another.
Can you tell us something that most people don't know about you?
I enjoy mountain biking. In Tanzania, we would cycle 20 km up the slope of Kilimanjaro ascending over 1000m through banana and coffee plantations and rainforest and then turn around and freewheel all the way home. My then 15 year old daughter and I cycled the 260 km around the base of Kilimanjaro raising money for a school charity she supported for under privileged children in Tanzania. I completed the Cape Epic mountain bike race – 940 km and 16 700 metres of climbing over 8 days from Knysna to Stellenbosch in the Cape.