I was 15 when I was diagnosed with Usher Syndrome Type 2, a degenerative genetic disorder causing moderate hearing loss, tunnel vision and night blindness. Like many people with lifelong disabilities, my journey has highs, lows, somersaults and plateaus.
From the age of three, I was diagnosed with hearing loss and I have been wearing hearing aids since. As a teenager, I still had fairly good central vision which made the news of possible blindness confusing. My vision impairment has been steadily declining since my diagnosis, throwing all sorts of challenges along the way, and will continue to decline with age.
I noticed my vision had decreased when I started running into objects such as open doors or not being able to find something which ended up being right in front of me. These early struggles naturally concerned my family and friends, most of whom started treating me like I was blind and not partially sighted, placing perceived limitations on me and my disability.
Gradually, I realised I needed to accept my vision impairment and find out how I could make adjustments to my life.
More than 10 years after my diagnosis, I made a decision to book my first eye examination since then. The last time I had been to an ophthalmologist was when I was 15. I hadn't been back because, quite simply, I thought there wasn't anything I could do.
The eye examination was a harsh reality check, realising how much vision I had actually lost. At that point I made a conscious decision to connect with the vision impaired/blind community to change my lifestyle and attitude.
It was living overseas for eighteen months on my own that really allowed me to find independence and gain confidence. For the first time I took control of my own life.
I wasn't rebellious, I just wanted to change my attitude to try anything and break free from the square that was built around me.
I met other people who were vision impaired, got back into my passion for competitive sports, and I realised I could compete in Paralympic sports.
My friends and family realised I was extremely independent and stopped placing limitations on me. This was particularly important because limitations can be more disabling than your actual disability; limitations mean you don't have control.
My attitude that I would try anything really came to the fore while I was living overseas. After a childhood of almost drowning, avoiding school swimming carnivals and swim classes, I overcame a fear of the water to be able to pursue my Paralympic Games dream in the sport of Triathlon.
Today, I am the fastest vision impaired triathlete in Australia and ranked inside the top five in the world. I'm aiming to medal at the 2020 Tokyo Paralympics and am training hard every day to get there.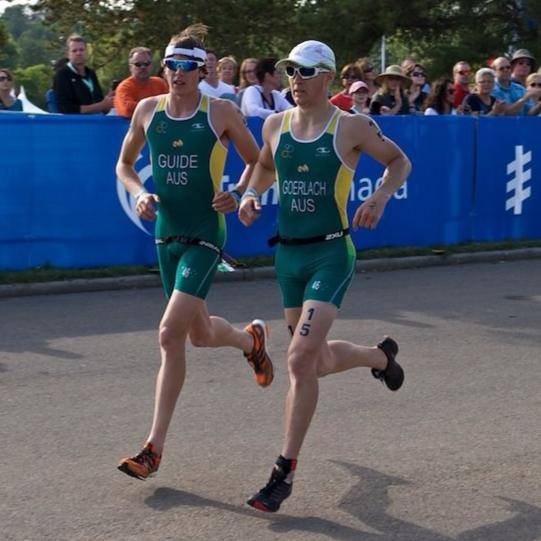 I was living in Canberra for two years, taking part in the recent NDIS trial while I was studying at the University of Canberra. From my perspective, the NDIS is about choice, control, individualised support and flexibility. I now feel like I have the same opportunities as everyone else in the community which was almost impossible before the NDIS.
The NDIS is not welfare or income support. Importantly, the NDIS works alongside existing support programs.
The NDIS is changing the way Australians with a disability access support. By 2019, it is anticipated that 460,000 people with significant and permanent disability will receive the support they need via the NDIS.
I have travelled for sport to New Zealand, Europe, America and Canada. It took time, but now I've realised how I can be part of the vision community and enjoy sharing my story. For me, vision and hearing impairment are not about limitations, rather it's about your ability to overcome barriers and create opportunities to do what you want.
–