The most anticipated ophthalmic event of the year is nearly here!
The Royal Australian and New Zealand College of Ophthalmologists (RANZCO) Annual Scientific Congress, known to most ophthalmologists as simply 'RANZCO', will be held in Hobart from 2-6 November, 2013. The theme is Ophthalmology, an Art and a Science.
Now in its 45th year, RANZCO Congress is the largest event of its kind in Australia and New Zealand. It is held this year in my beautiful town of Hobart in Tasmania. Hobart is Australia's smallest and most historic capital, and is known for its beautiful harbour, historical architecture and fresh produce.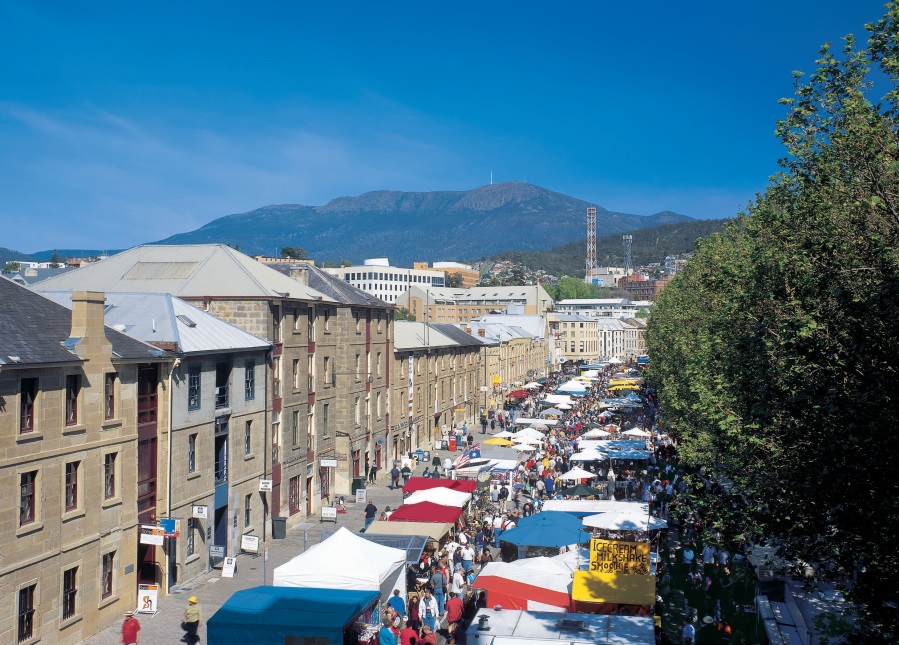 Image courtesy of Tasmanian Tourism (provided by RANZCO): Salamanca Markets, held every Saturday in Hobart.
The scientific program put together by the RANZCO Scientific Program Committee consists of eight keynote lectures, five plenary sessions, 29 course and symposia and eight free paper sessions. In addition, there will be 78 posters and 17 films on display.
Delegates attending will hear presentations such as:
The Macula, the fovea and blood supply: What do we know and how does it help? Prof Jan Provis
Myths and misconceptions regarding glaucoma care. Prof Kuldev Singh
Is the patient experience the early warning sign for patient safety? Prof Julian Rait
Clinical Decision-making with Cataract Complications – 'You Make the Call'. Dr David Chang
You can also hear me present the Hollows Lecture "Saving Sight, Healing a Nation," which is about my experience in East Timor after they gained independence from Indonesia in 1999. The price for this was very heavy. There was considerable loss of life, property and infrastructure. The whole country was virtually destroyed and came to a standstill. Needless to say, the fragile health system also collapsed. I will speak about the humanitarian response to this massive crisis, by a small group of Australian Volunteers.
Registration
With nearly 900 already registered the meeting is surpassing my expectations in terms of delegate numbers. I recommend you try www.wotif.com.au or www.lastminute.com.au if you are yet to book accommodation. I'm told our registration process is easy, simply go to www.ranzco2013.com.au/registation and follow the prompts.
The RANZCO Eye Foundation Art Exhibition
I've met many budding artists since becoming a RANZCO Fellow and encourage all to check out the RANZCO Eye Foundation Art Exhibition at the Congress.
Welcome reception at MONA
Keeping in theme we will have a welcome reception at the world famous Museum of Old and New Art. Living in Hobart I enjoy visiting this museum regularly, its art is interesting (sometimes challenging!), and always changing. It's also a very interesting building and lovely location on the Derwent river. Attendees will have two hours to browse this quirky world class museum before retiring to enjoy a yummy Churrasco BBQ.
Senior/Retired Fellows of RANZCO
Again this year our Senior and Retired Fellows will have a dedicated lounge area where they can sit down with a cup of coffee or tea and chat to colleagues. There will also be a dinner for Senior Fellows on Monday 4 November at the Restaurant Tasman, in the Hotel Grand Chancellor.
International Development Workshop
The International Development Workshop this year will be held on Friday 1 November. The theme is Retina in the Developing World Context, with presenters and Chairs from the Pacific Islands region, Cambodia and RANZCO Fellows with an expertise in retina. I encourage all to attend.
General Practitioners' Workshop
On Saturday 2 November, there will be a full day seminar for GPs; "Insight into Eyes" this is a great opportunity for GPs to learn some essential ophthalmic knowledge. More information on this program and how to register please view: http://www.insightgpeducation.com.au/
Pre and Post Congress activities
Some fun golf and sailing activities have been organised, there are still plenty of places left for the sailing in particular, please see the Congress website for more information.
I look forward to welcoming you to Hobart this November!